fri
26oct
- 28
oct 26
8:00 pm
oct 28
2018 Junior/Senior High Retreat
8:00 pm - 11:00 am (28)
Event Type:Retreat
Age Group:Youth
Registration:By Youth Group Leader
Program Fee:Yes
Event Details
Junior / Senior High Combined Retreat – October 26-28, 2018 at Camp Hanover
This retreat is geared for those churches that have youth groups that combine Junior and Senior high students. Bring your whole group to camp for a weekend of fun, fellowship, and faith! We'll begin Friday night at 8 pm, and wrap up Sunday at 11 am. Youth group leaders can register their whole group. The weekend will consist of large group gatherings, small group discussions, church group time, and Camp Hanover fun.
The cost of $110 per person includes 2 nights lodging, 4 meals, and all program materials.
Matthew 25: 37 – 40 says,

"Then those who are righteous will reply to him, 'Lord, when did we see you hungry and feed you, or thirsty and give you a drink?

When did we see you as a stranger and welcome you, or naked and give you clothes to wear?

When did we see you sick or in prison and visit you?'
"Then the king will reply to them, 'I assure you that when you have done it for one of the least of these brothers and sisters of mine, you have done it for me.'
We are called to be the hands, feet, and heart of Jesus! During this retreat, we will explore our identities as doers of justice and seekers of peace. We will discuss injustices that we see in our society and discern how our faith calls us to act in ways that promote beloved community and justice for each and every child of God!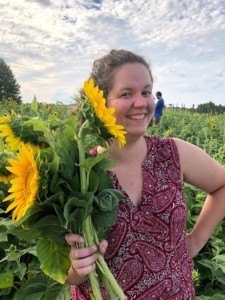 Retreat Leader: Jayme Babczak  Jayme came to Richmond, VA from Reading, Pennsylvania to study at Union Presbyterian Seminary. She is a dual degree student seeking her MDiv. and M.A.C.E. Jayme also serves as the Children and Youth Coordinator at Seventh Street Christian Church (Disciples of Christ). She has been working with youth for six years and has a passion for the ways communities of faith can enact social change. In her free time, Jayme loves to listen to Broadway soundtracks, try new foods, and watch Philadelphia sports teams!
[button link="http://www.ultracamp.com/info/sessiondetail.aspx?idCamp=662&campCode=cha&idSession=198260″ color="custom" size="large" stretch="default" type="flat" shape="pill" target="_self" title="" gradient_colors="orangered|" gradient_hover_colors="#8cc23e|" accent_color="white" accent_hover_color="white" bevel_color="" border_width="0px" icon="fa-chevron-right" icon_position="right" icon_divider="no" modal="" animation_type="0″ animation_direction="left" animation_speed="1″ animation_offset="" alignment="left" class="" id="rsvp-button"]Youth Group Leaders: Register Your Group Now[/button]
Time
26 (Friday) 8:00 pm - 28 (Sunday) 11:00 am
Location
Camp Hanover
3163 Parsleys Mill Road, Mechanicsville, Virginia