fri
13dec
- 14
dec 13
6:00 pm
dec 14
Hanover Christmas 2019
A Candlelight Nativity Experience
6:00 pm - 9:00 pm (14)
Event Type:Event
Age Group:All Ages
Registration:Not Needed
Program Fee:Donation
Event Details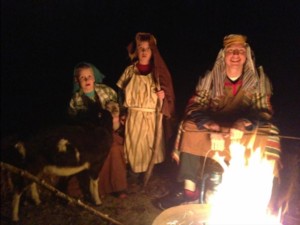 A Hanover Christmas
A magical night of music and drama celebrating the birth of Jesus
2019 DATES
Friday, December 13 – CANCELLED due to weather
Saturday, December 14 – STILL ON from 6PM to 9PM
Check back for updates on Saturday at 11am
A candlelit trail winds through the woods, transporting you back in time.  Along your journey, meet other travelers, shepherds, kings and angels.  Immerse yourself in the greatest story ever told…
Candlelight Nativity Experience…
Open to the public from 6:00pm to 9:00pm each evening, this event is suitable for all ages and physical abilities. More than "just another live nativity," you'll experience musical performances, dramatic re-enactments and fellowship with others while leisurely strolling a candlelit wooded path. A donation of $10 per person to the Annual Fund for Camp Hanover is appreciated.
For All Ages and Abilities…
A Hanover Christmas is an outdoor event, so you'll want dress for the weather. The candlelit nativity trail takes about 30 to 40 minutes to experience. For those who have difficulty walking, Camp Hanover provides golfcarts with drivers so that all who desire may travel the trail. After you wander through the woods in search of the Christ child, you'll continue into Wise Lodge where you can enjoy fellowship, refreshments, and live music while you relax by the fireplace.
Traveling? Stay the night. There's room at our inn…
You're invited to stay overnight and experience the hospitality of this place apart. Enjoy a Holiday Brunch the following morning. To reserve overnight lodging, get more information or learn how you can be a part of this program, call (804) 779-2811 or email info@camphanover.org.
Time
13 (Friday) 6:00 pm - 14 (Saturday) 9:00 pm