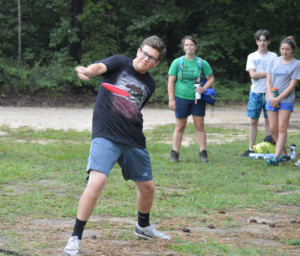 Get in the game!
Ready to take your frisbee game to the next level? Don't miss Disc Golf Camp at Camp Hanover! Campers will receive daily practice and instruction on Camp Hanover's own 9-hole disc golf course! This laid-back sport combines specialized discs with the basics of golf for the perfect camp pastime! Seasoned players and newbies are all welcome for a week of fun and new experiences!
Who can attend Disc Golf Camp? And when is it?
Great questions! Disc Golf Camp is for campers entering grades 6 through 8. Disc Golf Camp starts on Sunday, July 2 and ends Saturday, July 8.
How much does it cost to attend Disc Golf Camp?
The camp fee for Disc Golf Camp is $625. Thanks to the mission funding we receive from churches and individuals who value Camp Hanover's ministry, we can offer a partially subsidized rate of $550 and a fully subsidized rate of $475. You choose what rate is most comfortable for you. You can learn more about our flexible pricing here or call us at (804) 779-2811.
Get in the game! Register today for Disc Golf Camp 2017!
Interested in other types of summer camp programs? Check out all of the Overnight Camps and Day Camps Camp Hanover offers this summer!