SUMMER 2020: The Isaiah 40 Project
"Prepare for God's arrival!
Make the road straight and smooth,
a highway fit for our God.
Fill in the valleys,
level off the hills,
Smooth out the ruts,
clear out the rocks.
Then God's bright glory will shine
and everyone will see it.
Yes. Just as God has said."
We are in the midst of a very different year for the Camp Hanover ministry. On May 15, Camp Hanover announced the decision to suspend the schedule of overnight camps and day camps for the 2020 summer season. One could never have imagined the events that have led to this point, yet here we are. We are sad Camp Hanover is not currently filled with the joyful sounds of children and youth enjoying the outdoors. Yet, we are hopeful for the opportunities this time of quiet brings to our ministry.
A Time to Renew and Refresh
We've chosen to look at this time as a period of Jubilee – the Biblical tradition of resting the land. We'll use this temporary pause to refresh the Camp's buildings and facilities, improve the trails and. And, we look forward to celebrating when this period of rest ends and rejoicing in what this time has brought Camp Hanover and this ministry. In this time, we will continue our mission to be a place apart for renewal and growth – in smaller ways, yet with significant impact.
The Isaiah 40 Project is one such opportunity. For 10 weeks this summer, a small group of eight young adults have been invited to live at Camp Hanover and practice love of God, neighbor and self. In doing so, they will establish an intentional community focused on service, spiritual growth, and personal development.
Daily Life in an Intentional Community
Daily life will consist of service work in the local community and around Camp Hanover – cleaning, painting, improving trails, tending the garden – as well as community worship, and sabbath practices. In the evenings, participants will share a meal and spend time in devotion and leadership development. Through their service, they'll connect in new ways with the children and youth who normally would be at camp.
Hopefully, if conditions allow, The Isaiah 40 Project community members will welcome campers back to Camp Hanover later this summer, and give everyone a little taste of camp to carry them through 'til next season.
In the meantime, check out Hanover at Home. The Isaiah 40 team is developing a series of special weekly events to bring the Camp Hanover experience out into the world.
You can Help
Each participant in the Intentional Community will receive a stipend, lodging and meals during their 10-week commitment. You or your congregation can fully sponsor one of the eight community members with a $2,500 gift, and contributions of any amount will bring this community to life.
To make your gift online, visit www.camphanover.org/give
The Isaiah 40 Project Blog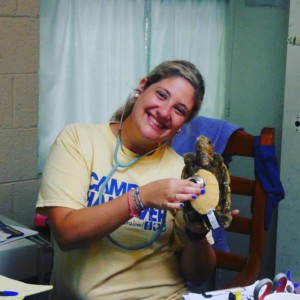 My name is Katie Carboni, some of you may know me as Nurse Katie. I am quite new to the Hanover Family, as I joined this wonderful community in summer 2019. I am extremely blessed to be part of the Isaiah 40 intentional community this summer. It wasn't the summer I hoped for without the laughter of children, the gaga tournaments, or singing around a campfire, but it was the time I needed for spiritual renewal.
These past six months of my life I have been discerning with the notion of 'what if there was more for me'? Nursing is my life but I feel God tugging me into a new and different horizon. I have been so active in my church since I was a child, and feel most safe and joyful when I'm learning about God's love and teachings, and serving my community in any way possible. Every time I branch out to try something new and different in my professional life, I keep coming back around to wanting to be closer to a religious community i.e. church or camp.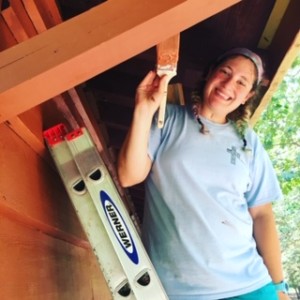 This time of rest for the world has given me time to discern my own happiness and life wants. Camp ministry has been a huge part of shaping who I am. I love the outdoors! I find God in everything nature; the chirping of the birds, the intricate tapestry of a spiders web, the dancing flame of a camp fire, even the wind that we feel against our skin. I feel God is calling me to the path of seminary. I get so excited with the notion! I want to learn more, do more, meet new people, and explore God's beautiful world!
This time of service, growth and renewal at Camp Hanover has given me the chance to continue my own spiritual and discernment process in the nurturing environment of God's creation. We are doing so much more than planting grass seed, or painting the Winger bathhouse; we are refurbishing God's home for the future. My hard work is going to affect generations after me.
With the world on stand still, I pray that you reading, find time to remember what in life makes you happy? What fuels that joyous feeling? Have you had anything on your mind for sometime but don't know where to go with it? Use this time to think about your life and how you want to make it count. Because we only have one so we have to make it great.
I leave you with a few words to ponder about your life from the outstanding poet Mary Oliver…
The Summer Day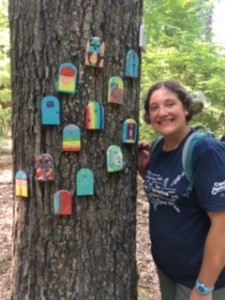 Who made the world?
Who made the swan, and the black bear?
Who made the grasshopper?
This grasshopper, I mean-
the one who has flung herself out of the grass,
the one who is eating sugar out of my hand,
who is moving her jaws back and forth instead of up and down-
who is gazing around with her enormous and complicated eyes.
Now she lifts her pale forearms and thoroughly washes her face.
Now she snaps her wings open, and floats away.
I don't know exactly what a prayer is.
I do know how to pay attention, how to fall down
into the grass, how to kneel down in the grass,
how to be idle and blessed, how to stroll through the fields,
which is what I have been doing all day.
Tell me, what else should I have done?
Doesn't everything die at last, and too soon?
Tell me, what is it you plan to do
with your one wild and precious life?
—Mary Oliver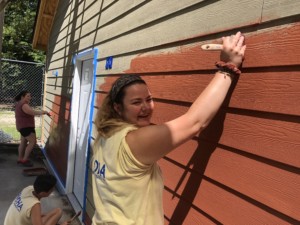 Anyone who knows me, knows that to me, kids are everything. Yes, everything. When I heard that summer camps would not be happening this summer, I had a long process of grieving the possibilities that could have been. I knew I would miss all of the incredible smiles, laughter, and camp songs sung at the top of every incredible camper's lungs. I knew things would be different, and I really struggled with what that might look like. A summer without campers is not what anyone was hoping for, but it is the reality that we are in.
So how can we turn this into a new chapter? How do we begin a chapter of camp that looks so incredibly different from what all of us picture camp as?
For me, deciding to be a part of the Isaiah 40 project was rooted in the mission statement of Camp Hanover. "A place apart, for renewal and growth, in an environment of Christian hospitality." This is what Camp Hanover is based within, and if we cannot have campers, I had to find a way see new possibilities and this was a great place to start. The Isaiah 40 Project is a summer-long intentional community where we get to work to renew this incredible place that has given so much to so many, and grow ourselves both spiritually and as a community. These three things, community, service, and faith development are at the core of the mission statement that I mentioned above. The Isaiah 40 Project is camp, at least the most camp we can possibly have right now, and that is why I decided to be a part of it, and so far, have loved being a part of this new beginning.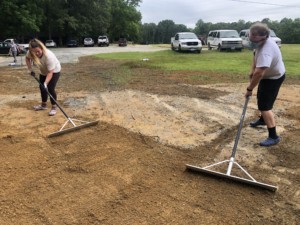 We are just ending week four of this journey, and though there have been moments of sadness, missing what could have been, we have also been able to carry on the core of what camp means. We work everyday to serve and renew this site so that it will be so ready to welcome back all of the people who love this place with open arms when it is safe to do so. We also work through our own faith and what it means to us. As we do all of this, we grow each and every day as our own little community.
I know just like me, there are so many people grieving so many losses, in so many ways right now, so I encourage you to look to those essential aspects of camp. Though we cannot light the fire together right now, find camp in the world around you. Find ways to serve, to grow in your faith, and to create community. I think if the world around us were just a little bit more like camp, it would be incredible, and this is our opportunity to do just that.
Light the fire out in the world around us, and we will continue to keep it lit here until we can all surround a campfire together again.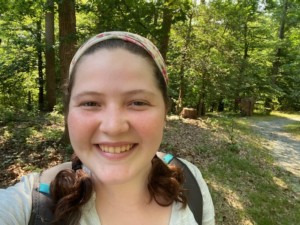 Hello! My name is Rachel Talmadge! I am from Fredericksburg, VA, and I am 19 years old. I came to camp as a camper for most of my childhood and then I was lucky enough to be hired as a counselor for the first time last summer. I am currently living at Camp Hanover as a part of the Isaiah 40 team!
The Isaiah 40 Project is a really amazing program that the directors put together because of Covid-19. I am working and living with 6 other young adults this summer. We are working Monday-Friday from 9am to 5pm. We have been working on a wide variety of projects to better Camp Hanover!
This week alone we gardened, cleaned trails, made new signs for around camp, cleaned out the welcome center garage, beekeeping, and moved in new furniture for the welcome center! We are all so dedicated to bettering camp for future campers!
When we first arrived at camp, we had to complete a two week quarantine. We all wore masks and had to socially distance from one another. It was very taxing and emotionally draining, but our quarantine ended on Monday June 22! We are now a quaranTEAM, as we like to say!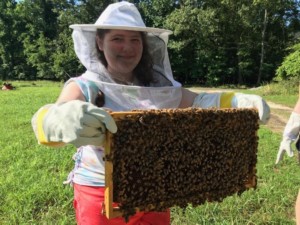 We celebrated the end of our quarantine with something we called Hug Day! Hug Day was a big deal for us because we could finally embrace and be a real community. We also had a sing along in Wise during breakfast because we could finally sing all together! As someone who loves singing, it was so nice to sing with other people again!
I will draw to a close by saying thanks to Doug, Harry, and Colleen, for giving me the opportunity to be here and give back to something that has done so much for me.
But those who wait for the Lord shall renew their strength, they shall mount up with wings like eagles, they shall run and not be weary, they shall walk and not faint.
– Isaiah 40:31