SUMMER 2020: The Isaiah 40 Project
"Prepare for God's arrival!
Make the road straight and smooth,
a highway fit for our God.
Fill in the valleys,
level off the hills,
Smooth out the ruts,
clear out the rocks.
Then God's bright glory will shine
and everyone will see it.
Yes. Just as God has said."
We are in the midst of a very different year for the Camp Hanover ministry. On May 15, Camp Hanover announced the decision to suspend the schedule of overnight camps and day camps for the 2020 summer season. One could never have imagined the events that have led to this point, yet here we are. We are sad Camp Hanover is not currently filled with the joyful sounds of children and youth enjoying the outdoors. Yet, we are hopeful for the opportunities this time of quiet brings to our ministry.
A Time to Renew and Refresh
We've chosen to look at this time as a period of Jubilee – the Biblical tradition of resting the land. We'll use this temporary pause to refresh the Camp's buildings and facilities, improve the trails and. And, we look forward to celebrating when this period of rest ends and rejoicing in what this time has brought Camp Hanover and this ministry. In this time, we will continue our mission to be a place apart for renewal and growth – in smaller ways, yet with significant impact.
The Isaiah 40 Project is one such opportunity. For 10 weeks this summer, a small group of eight young adults have been invited to live at Camp Hanover and practice love of God, neighbor and self. In doing so, they will establish an intentional community focused on service, spiritual growth, and personal development.
Daily Life in an Intentional Community
Daily life will consist of service work in the local community and around Camp Hanover – cleaning, painting, improving trails, tending the garden – as well as community worship, and sabbath practices. In the evenings, participants will share a meal and spend time in devotion and leadership development. Through their service, they'll connect in new ways with the children and youth who normally would be at camp.
Hopefully, if conditions allow, The Isaiah 40 Project community members will welcome campers back to Camp Hanover later this summer, and give everyone a little taste of camp to carry them through 'til next season.
In the meantime, check out Hanover at Home. The Isaiah 40 team is developing a series of special weekly events to bring the Camp Hanover experience out into the world.
You can Help
Each participant in the Intentional Community will receive a stipend, lodging and meals during their 10-week commitment. You or your congregation can fully sponsor one of the eight community members with a $2,500 gift, and contributions of any amount will bring this community to life.
To make your gift online, visit www.camphanover.org/give
The Isaiah 40 Project Blog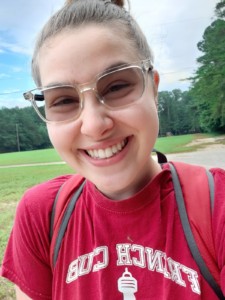 This summer certainly is a summer of new experiences for me. Though I've been going here for thirteen years, ten of them spent as a camper, there was and is so much I hadn't had the chance to do. I hiked parts of twelve trails on Saturday as part of our Hike-A-Thon, almost all trails I'd never been on before! I've learned to power wash, heard new camp songs, finally been able to tend to the garden, and have been able to be a part of the camp experience. When I'm on staff, I'm part of the kitchen, and so this summer is my adventure back into camp life for a little bit.
Camp is everything to me. I often think that, in a way, I grew up here. Though I was only a camper for a total of maybe twelve weeks, I still see this place as one of the most important and influential to my growth as an individual. Being here, you find family. The community I've found here is one that has changed my life, and will continue to do so. I am so blessed and grateful to have had the opportunity to come here for so many years.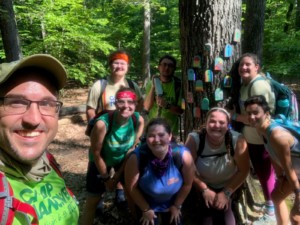 Being a part of the Isaiah 40 team has really allowed me to connect back to people I have spent whole summers with before – and I'm still learning new things about them. Part of staff orientation a couple years ago was spent learning about each other's love languages. If you're unfamiliar, there are five. They are as follows: quality time, words of affirmation, physical touch, acts of service, and receiving gifts. I highly value physical touch and quality time, and this summer has just given me that like never before. I have hugged everyone as much as I can (though there will always be more hugs), and have absolutely thrived in the time I spend with this group to learn and laugh and hear stories. They are all such beautiful, wonderful people. My heart aches for all those I cannot hug and appreciate this summer, but I know that when it is safe, when we can all be together again, I will be right there by their side.
I love how life is always about growing and changing and becoming new, and I'd like to think that I, too, am growing along with it, as I should. I love that I am not the same as I was yesterday, and I love that I will be different tomorrow. We each get so many moments in life to choose 'yes' or 'no', 'right' or 'left', 'today' or 'tomorrow', and though they might be little decisions, they still shape the day, the week, even the year.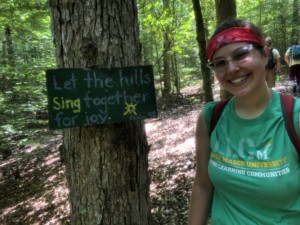 My decision to come here this summer has shaped my year, perhaps even the next few years. I don't know what is to come, and that's okay, but I know I've had this time with the people I love, in a place I cherish, and that has strengthened me and will help me through each new curve life has to give.
May God give you strength of heart and calmness of mind to follow those choices, and find the goodness in this life. I hope that even within these new and sometimes scary experiences, we all can find a way to love and appreciate all we see around us. And of course, don't forget to love and be gentle with yourself. You are one incredible human being.