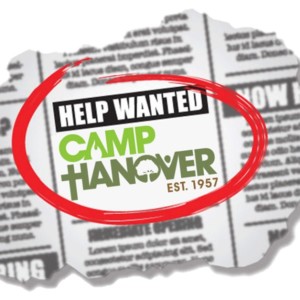 After School Instructors
Want to make an impact on children's live every day? Be a part of the CHASE team!
January – June | September – December
The Camp Hanover After-School Explorers program (CHASE) gives children the opportunity to get outside each day after school to to discover, play, and have time to just be kids!
Work at Summer Camp
The Hardest Job You'll Ever Love!
June, July, August
Do you love kids, have a passion for sharing your faith, and feel energized spending time in God's creation? If so, we may have a job for you! Each summer a collection of amazing people come together to form an intentional Christian community here at Camp Hanover. Together, we endeavor to provide life changing experiences for the campers who attend our programs by showing them radical Christian hospitality. We believe each child deserves to be loved as the child of God they are.
We are looking to hire the very best people for our resident camps, day camp programs, and food service staff. If you think you have what it takes, apply below, or keep scrolling for more information.
Associate Director of Operations
Camp Hanover is accepting applications for an Associate Director of Operations. The person in this role is responsible for ensuring the Food Service, Housekeeping, Facilities, and Hospitality departments deliver outstanding hospitality and guest service. The Associate Director of Operations is also responsible for ensuring Camp Hanover property, facilities, equipment and vehicles are well maintained, operational, inviting, attractive, safe, and secure. Duties include supervising staff in the various departments, hands-on facility maintenance, working with volunteers, scheduling and monitoring outside contractors, and overseeing capital improvements and long term site development.
This is a full-time position with a flexible schedule and is often not a "Monday-to-Friday, 9-to-5″ type of job. Availability on weekends, holidays, and evenings will be required at times. The expectation is the Operations Manager will be readily available to address and resolve hospitality and facility-related issues during summer camp, or those which are beyond the ability or skillset of the Host when a group is onsite during the non-summer months.
Compensation includes $44,000 annual cash salary (negotiable after successful completion of one year of service), four weeks paid leave annually, and medical/pension benefits 100% paid by Camp Hanover.
View the full position description for more details. Applications will be accepted until the position is filled.
Interested applicants should email a cover letter, resume, and contact information for three professional references to:
Doug Walters, Executive Director
doug@camphanover.org