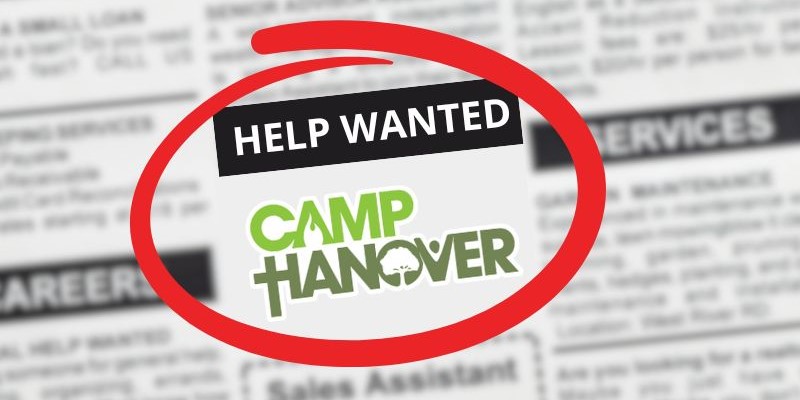 Summer Camp Staff
June, July, August
Do you love kids, have a passion for sharing your faith, and feel energized spending time in God's creation? If so, we may have a job for you! Each summer a collection of amazing people come together to form an intentional Christian community here at Camp Hanover. Together, we endeavor to provide life changing experiences for the campers who attend our programs by showing them radical Christian hospitality. We believe each child deserves to be loved as the child of God they are.
We are looking to hire the very best people for our resident camps, day camp programs, and food service staff. If you think you have what it takes, apply below, or keep scrolling for more information.
Health Care Staff / Summer Camp Nurse
Camp Hanover is looking for a health care provider(s) for it's resident summer camp program. The camp health care staff assist with check-in of new campers each week, manage medication, treat campers and staff, contact parents as needed, and contribute to the overall well-being of all people at camp.
Ideally, this is a resident position that includes salary, plus room and board. Family are welcome. Options for daily, weekly, or hourly shift schedules may be possible for suitable candidates.  The ideal candidate will possess RN, LPN, or EMT certification and be comfortable in an outdoorsy, inclusive and welcoming, Christian summer camp environment.  Contact Harry Zweckbronner, Camp Hanover's associate director of programs with questions or to apply. Call  804-779-2811 or email at harry@camphanover.org.
After School Instructors
August – May
Want to make an impact on children's lives every day? Be a part of the CHASE team! The Camp Hanover After-School Explorers program (CHASE) gives children the opportunity to get outside each day after school to to discover, play, and have time to just be kids.
MVP Interns
August 2023 – June 2024 (possibly August 2024)
Part internship in outdoor ministry and part intentional community, Camp Hanover's MVP program is an opportunity to learn the many aspects of year-round camp and conference ministry, vocational and spiritual discernment, and developing community. Support Camp Hanover's mission while developing skills to help in your future.
There are no open year round positions at this time.