Summer Camp… What We Do Best.
Since 1957, Camp Hanover has offered Christian summer camps — both day and overnight programs — for elementary, middle and high school youth. That's more than 60 years of experience in providing dynamic, safe, and meaningful  youth programming. When it comes to summer camp, we got this. It's what we do best.
Specifically, the Camp Hanover experience is designed so campers:
Explore, grow in and act on their Christian faith
Build Christ-centered communities
Live in, live with, learn about and care for God's Creation
Develop skills in outdoor living
Understand and practice servant leadership
Safely experience fun, fellowship, adventure and challenge
Virginia Living Magazine – Best of Virginia Awards,  June 2021
Richmond Magazine – Best Of Richmond Awards, August 2014
Style Weekly – Family Favorite Awards, October 2015
McCormick Theological Seminary – Center for Faith & Service, June 2016
Our mission is to provide a place apart for renewal and growth in an environment of Christian hospitality.
Campers in our summer programs will find an atmosphere of caring and acceptance at every turn. Camp is a place where acceptance of and caring for others is the key aspect of the community we build. A community where campers learn to appreciate and value one another. We strive to create an environment where campers and staff feel comfortable, loved, and can have fun talking about, exploring and practicing their faith.
As a Christian summer camp, we do ask that all campers participate in Bible study and worship. The camp experience provides an environment in which Christian principles can be discovered, applied and practiced. Through simple, community living in the out-of doors, camp reveals to campers and counselors an awareness of God as Creator and Redeemer. Camp provides campers and counselors opportunities to respond in a living way to God's love through Christ. Jesus Christ, as the Word becomes flesh, is central to our program.
Our programs are designed to build community and foster small group experiences.
At summer camp, opportunities abound for making new friends, meeting people from the the world and around the corner, learning, and practicing outdoor living skills, developing individual talents and leadership abilities, taking responsibility for and care of God's world, and having barrels of fun!
Two counselors and 10 to 12 coed campers live in "Family Groups" where they plan, play, laugh, worship and grow together, working to build a Christ-centered community of trust, openness, sharing and forgiveness. Campers are challenged to know Jesus Christ as their friend and guide as they grow spiritually, physically, emotionally and socially.
It is in these small, family groups where each person has the opportunity to contribute to the well being of others. Where he or she can find meaning and purpose for his or her life, through the discovery of God-given gifts and talents. Where each person can be recognized as, and recognize each of the others in the group as, a uniquely created, loved, and valued child of God.
At The Top of Our Game…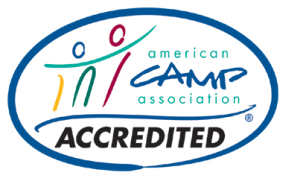 We pride our selves on meeting and exceeding the camping industry's accepted standards and best practices for safety and program quality for both summer programs and year-round operation. Signalling our commitment to excellence in camping, Camp Hanover is accredited by the American Camp Association. Nationally, only 1 camp in 5 can say that. And get this… we have maintained our accreditation consistently for over 50 years. To learn more about why accreditation is an important consideration when choosing a summer camp and how accreditation standards exceed state licensing regulations visit the American Camp Association website.
Pssst. Want To Send Your Child To Summer Camp For Free?
Yes, free. How? It's easy. What's the catch? Only a few opportunities are still available.