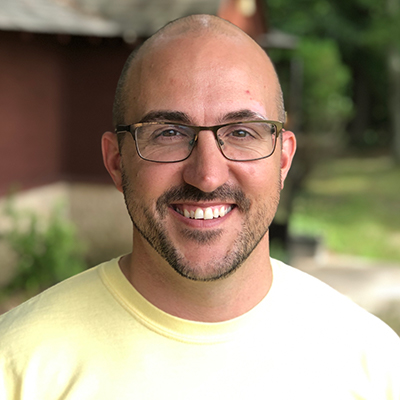 Doug Walters
Executive Director
Doug Walters, Executive Director
Doug is passionate about Presbyterian camp ministry and brings with him a wealth of experience and creativity in his role as Executive Director. Before joining the Camp Hanover team in October 2012, Doug had served for over a decade in a variety of leadership roles at various PC(USA) summer camps and retreat centers, as well as having served as a board member of the Presbyterian Church Camp and Conference Association. Doug is a communications graduate of Ithaca College, whose career path tended toward broadcast journalism and video production before following a call into full-time camp ministry within the Presbyterian Church in 1998.
Originally from New Jersey, Doug grew up attending a Presbyterian camp every summer. It was at camp, as a Counselor-in-Training, that Doug came to understand that God gives each of us special gifts and talents and calls us to serve as Christ's hands and feet in the world.
Doug met his wife Lynn at camp, and together with their three children, enjoys being outdoors in the camp setting, especially when playing guitar around the campfire. In addition to his passion for "all things camp," Doug is well known for his dough-tossing skills. The rumor is that this Jersey native makes a pretty mean homemade, from-scratch pizza that rivals any you'd find at your local pizzeria.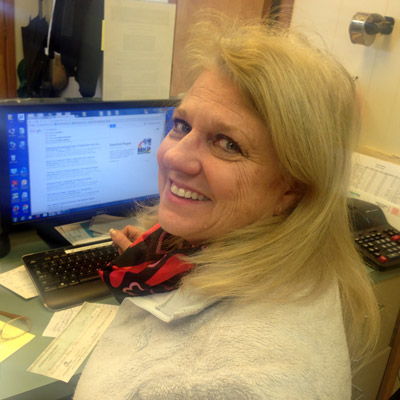 Lisa VanderPloeg
Office Manager
Lisa VanderPloeg, Office Manager
"Thank you for calling Camp Hanover!" The cheerful voice you are most likely to hear when you call Camp Hanover belongs to Lisa VanderPloeg. Lisa serves as our office manager, and has been with this ministry since 2000. Lisa's gifts of organization and wealth of camp knowledge keep our office running smoothly.
Lisa and her family moved to Hanover County from Chesapeake, VA in 1990 when her husband, Rick, was transferred for his job. Lisa enjoys cooking, sewing, and spending time outdoors with Rick and their 2 children.
Lisa would love to help you register your child for summer or winter camp programs or assist you, your church, school or organization plan a date for a retreat or other gathering at Camp Hanover. Need to tour our facilities? Give Lisa a call, and she will be happy to show you around this beautiful place apart.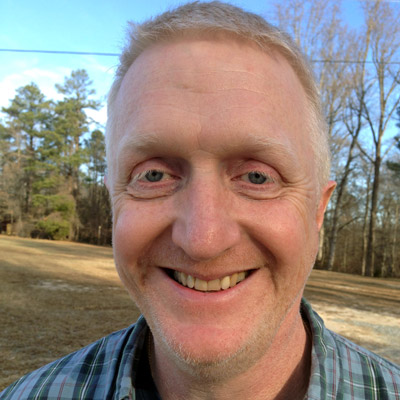 Harry Zweckbronner
Associate Director of Programs
Harry Zweckbronner, Associate Director of Programs
Harry believes strongly in all aspects of Christian camping, and he is most passionate about team building and giving kids the opportunity to grow in their faith. A lifelong Presbyterian, Harry's experiences attending summer camp as both camper and staff member played a large role in shaping the person he is today. Because of this, he is passionate about helping others have similarly significant experiences.
Prior to joining the Camp Hanover team, Harry served for ten years as the Program Director at the Johnsonburg Presbyterian Center, where he oversaw the summer camp program and year round youth retreats. Before following the call into camp ministry, Harry taught high school history for 7 years. Harry has also served on the board of the Presbyterian Church Camp and Conference Association and is a standards visitor for the American Camp Association.
In his down time, Harry loves spending time with his wife, Ann, and their children Molly, Katie, and Grace. He also likes to cook, coach youth sports, and is an avid sports fan.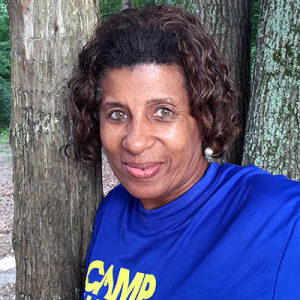 Cindy Banks
Food Service Manager
Cindy Banks, Food Service Manager
Ask anyone who has enjoyed a meal at Camp Hanover and you're likely to hear them rave about one of our special treats – "Cindy's rolls!" These home-made, from-scratch, oven-baked marvels are one of Cynthia "Cindy" Banks' signature delights, and after you tasted them you'll find it near impossible to eat just one!
Cindy loves to bless people with the comfort of good food. Before joining the Camp Hanover team in 2004, Cindy worked for 27 years in the school system. Cindy enjoys working alongside the Pathfinders in the kitchen, and knows how to put a smile on anyone's face. Her strong faith and bright spirit are such blessings to this ministry.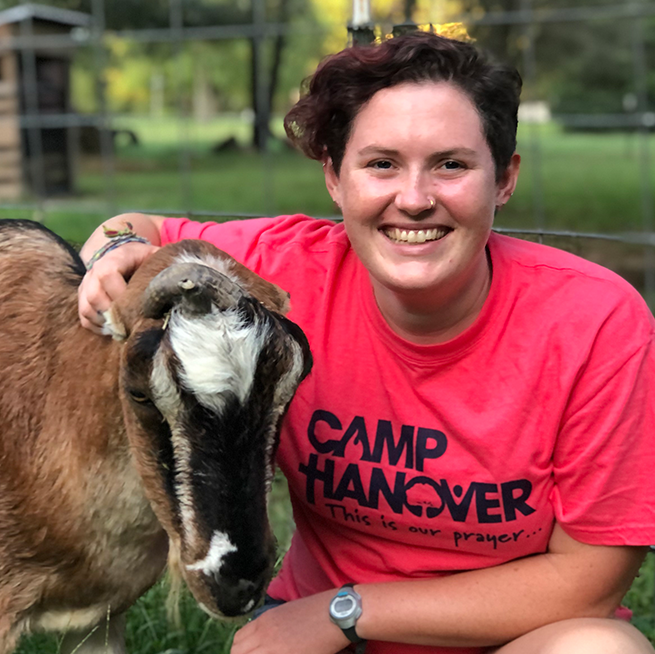 Laura Haney
Associate Director of Environmental Ministry
Laura Haney, Associate Director of Outdoor Ministry
Laura has always been a lover of nature and camps. After earning a Bachelor's degree in Environmental Studies and Biology from Randolph-Macon College, she worked as an instructor in several outdoor education centers across the country, as well at as the National Aquarium in Baltimore, Maryland, developing curriculum and teaching students of all ages about the natural world.
A true servant leader, Laura spent a year in Tuscon, Arizona, re-building houses as a participant in the Presbyterian Church (USA) Young Adult Volunteer program. And before joining the year-round team at Camp Hanover, Laura served as the Assistant Day Camp Director at Massanetta Springs Camp and Conference Center in Harrisonburg, Virginia.
Laura's first introduction to Camp Hanover came during the summers of 2018 and 2019 when Laura served as a summer camp Unit Director. She quickly fell in love with the place and the mission, and is excited to be joining the Camp Hanover team once again! She is passionate about giving everyone space to discover the outdoors and is looking forward to creating more ways for people to connect with and explore the wonders of creation.
In her free time, Laura enjoys hiking tall mountains, making delicious food, reading good books, and playing music on the ukulele. Her bucket list includes visiting every National Park in the US, backpacking the Appalachian Trail, and filling her home with plants one day.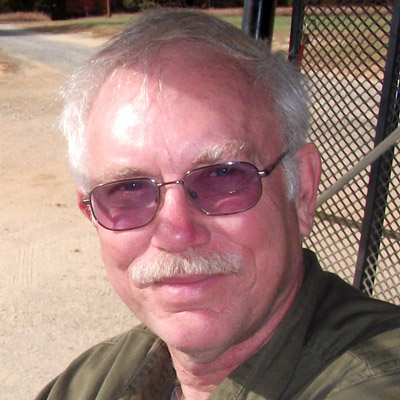 Larry Covington
Facilities Manager
Larry Covington, Facilities Manager
Larry began serving as camp's part-time Site Manager in April 2008. Larry is a retired Airport Police Officer who has a degree in Criminal Justice and 34 years of law enforcement service under his belt. Under the tutelage of his father, Larry developed skills in maintenance and construction, growing up on a small farm. In the 1970's Larry designed and built the home he and his wife still live in today, and has remodeled and maintained homes and property for family members. With skills in carpentry, farm operations, plumbing, electrical work, equipment and vehicle mechanics, Larry is Camp Hanover's very adept "Jack of all trades."
Larry also serves as an elder at Fairfield Presbyterian where he has been a member for over 40 years. Larry and his wife Elizabeth have two daughters – Lindsey is a first grade teacher in Hanover and Courtney is a preschool teacher in Hopewell. Larry enjoys restoring classic cars at his home in Old Church and displays his cars in local shows.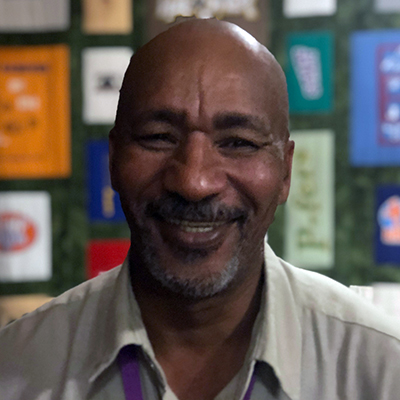 Floyd Berkeley
Housekeeping & Hospitality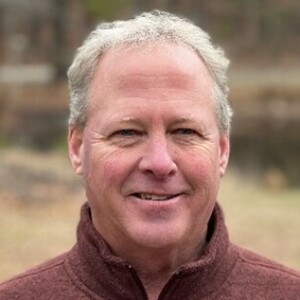 Jeff Arnott
Associate Director of Operations
Jeff Arnott, Associate Director of Operations
Jeff Arnott is responsible for the day-to-day, onsite management of the facilities and grounds which make up Camp Hanover's 621-acres. He also oversees the dining, housekeeping, and hospitality experiences and services Camp Hanover provides to campers and guests. Jeff also is the person to contact if your congregation is interested in volunteering at Camp Hanover. Volunteer projects at camp provide your congregation the opportunity to serve together outdoors. If you're interested in giving your time and talent to complete or lead a project, contact the camp office at (804) 779-2811 or email Jeff.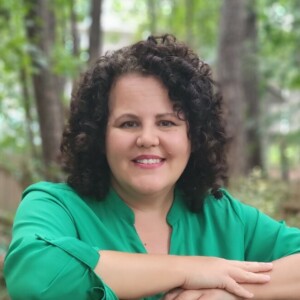 Kelley Hope
Communications Specialist
Kelley Hope, Communications Specialist
As communications specialist, Kelley helps Camp Hanover share its ministry with others through words and visuals. She's always on the lookout for stories to tell and photos to highlight. Do you have a great memory or experience you'd like to pass along?  Send it by email.
Kelley has been a public relations and communications professional for more than 20 years, including positions in local and state government. She also works for Presbytery of the James, one of Camp Hanover's ministry partners in the PC(USA). She lives in Henrico with her husband and two children.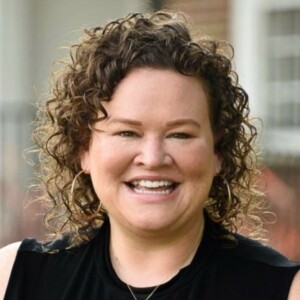 Sarah Herbert
Development Coordinator
Sarah Herbert, Development Coordinator
Meet Sarah, our development coordinator at Camp Hanover! Having worked in development with nonprofits and independent schools, she is excited to bring that experience to Camp Hanover. Sarah enjoys translating people's love and passion for camp into a lasting impact through giving that will keep the Camp Hanover experience alive for generations to come. Having grown up attending and working at summer camps herself, camps hold a special place in Sarah's heart. Outside of work, Sarah enjoys immersing herself in a good book, planning her next adventure, volunteering at her church, and spending time with her two cats, Maximus and Meeko.