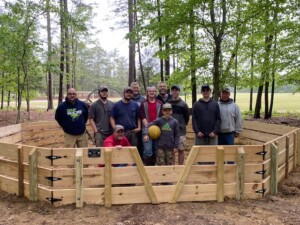 Elijah Gravely, a Boy Scout with Troop 185 in Dinwiddie, recently built a structure at Camp Hanover to give kids more opportunities for fun in the outdoors. Known as a kinder version of dodge ball, gaga ball is a popular new addition to many playgrounds.
Played in an octagonal ring, kids bounce around a ball trying to eliminate other participants. A player is out when the ball touches them below the knee. The last player to avoid the ball is the winner.
Elijah's gaga pit is the second at Camp Hanover. The first is next to Wise Lodge. You can find the new one between the big pavilion and the soccer field.
Elijah and his team of volunteers built the walls of the octagon at his home, then transported them to Camp Hanover. After installing the frame, the team added a layer of sand covering the ground inside. Elijah donated a couple of kickballs and ball pumps to keep the fun rolling.
Our thanks to Elijah for building this great addition to our facility. It is sure to be popular this summer. We are also grateful to his family, Boy Scout Troop 185, and members of Bott Memorial and Hawkins Memorial for supporting his project.