Colleen Earp, Camp Hanover's Director of Youth, Environment and Service Ministries, was recently asked by the Presbyterian Hunger Program to write an article encouraging Presbyterian Camps and Conference Centers to adopt green practices and engage in Environmental Ministry.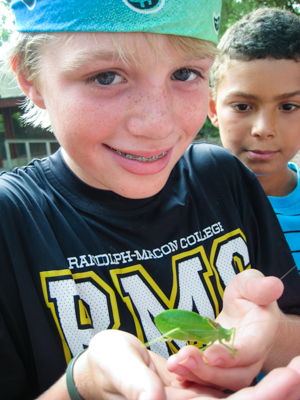 I
 grew up going to summer camp. When my parents picked me up, I probably told them about my new friends, the zip line, or swimming every day. I loved these things and know they made an impact on my life, but as an adult I've come to appreciate something that was more subtly instilled in me—by the smell of summer rain on the meadows; by the sound of a crackling campfire; by the light streaming through the trees in the evening; by the peacefulness of the lake at any time, in any season; by countless other moments noticing the minutiae of creation.
These experiences appreciating the beauty of "a place apart" led me down a winding vocational journey into environmental conservation that brought me right back to where it started, camp. I now serve as Director of Youth, Environmental, and Service Ministries at Camp Hanover, near Richmond, Virginia. This role was created to facilitate youth ministry and mission opportunities in the presbytery, and also to focus on outdoor education and environmental stewardship at Camp Hanover and beyond.
Environmental ministry is hardly a new idea at Camp Hanover or at Presbyterian camps in general. In fact, it's almost inherent. In Camping Together as Christians by Rev. John Ensign, a foundational book about small group Christian camping, there are three goals emphasized: Christian community, growth, and stewardship. Both Christian community and Christian growth involve spending time outdoors together to better understand one's place in the whole of creation. For Christian stewardship, Ensign presents many different purposes for spending time in nature, highlighting an awareness of creation and all of its interdependencies, as well as an awareness of our dependence on that creation as paramount in spiritual development.
Ensign urges two more purposes regarding stewardship: to acknowledge humankind's role in both environmental degradation and restoration, and, "To develop a deep sense of stewardship in relation to our natural resources, and to our bodies, our abilities, and our lives." This is a call to honor all of creation, including ourselves as part of it. Rev. Ensign authored these words almost 60 years ago, around the time he became the founding director of Camp Hanover. What a wonderful heritage to uphold, not just at Camp Hanover, but in all outdoor ministry settings!
For Presbyterian camps and conferences, this is more than a firm foundation to build outdoor experiences upon. Brian Frick, PC(USA)'s national Associate for Camp and Conference Ministries, describes it as a transition from activities to action: "Historically, we used to get out into the woods because it provided a space away, that place apart, and it was more of a backdrop. Camps are becoming more intentional about programming to teach these themes of conservation and stewardship." Classic small group camping happened around the campfire—crafting, knot tying, cooking, and developing community. This wasn't deliberate environmental education, but still made a huge impact in connecting people to nature and each other. Now, in the face of bigger conservation concerns like food security and climate change, this connection creates for a safe and exciting place to start taking action.
There are so many ways for camps to engage in going green, from eco-friendly facilities upgrades to conservation-focused programming. PC(USA)'s Environmental Ministries program and the Presbyterian Church Camp and Conference Association encourage these and other intentional changes through the Green Leaf Seal program, which signals a site's dedication to sustainability. Currently, at least 25 PC(USA) camps hold this distinction.
At Camp Hanover, we are excited to improve our stewardship practices, too. Doug Walters, our executive director, says it well. "We need to model 'sticky habits,' easily repeatable practices that you can take with you and implement back home. We need to illustrate how your efforts fit in the sometimes less tangible, larger picture of environmental stewardship."
Soon, we'll offer outdoor education opportunities for schools and churches. Our property committee adopted a long term forestry stewardship plan, and I am currently working on establishing a pollinator meadow and expanding our garden program. As our staff and board work together to accomplish these goals, I can't help but continue to take great joy in each little part of God's creation, especially knowing that this creation includes a wonderful community of faithful conservationists called to serve in outdoor ministry.