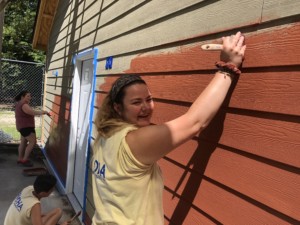 Anyone who knows me, knows that to me, kids are everything. Yes, everything. When I heard that summer camps would not be happening this summer, I had a long process of grieving the possibilities that could have been. I knew I would miss all of the incredible smiles, laughter, and camp songs sung at the top of every incredible camper's lungs. I knew things would be different, and I really struggled with what that might look like. A summer without campers is not what anyone was hoping for, but it is the reality that we are in.
So how can we turn this into a new chapter? How do we begin a chapter of camp that looks so incredibly different from what all of us picture camp as?
For me, deciding to be a part of the Isaiah 40 project was rooted in the mission statement of Camp Hanover. "A place apart, for renewal and growth, in an environment of Christian hospitality." This is what Camp Hanover is based within, and if we cannot have campers, I had to find a way see new possibilities and this was a great place to start. The Isaiah 40 Project is a summer-long intentional community where we get to work to renew this incredible place that has given so much to so many, and grow ourselves both spiritually and as a community. These three things, community, service, and faith development are at the core of the mission statement that I mentioned above. The Isaiah 40 Project is camp, at least the most camp we can possibly have right now, and that is why I decided to be a part of it, and so far, have loved being a part of this new beginning.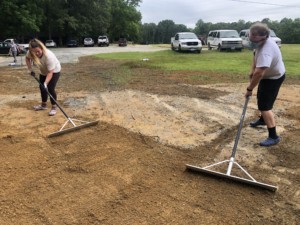 We are just ending week four of this journey, and though there have been moments of sadness, missing what could have been, we have also been able to carry on the core of what camp means. We work everyday to serve and renew this site so that it will be so ready to welcome back all of the people who love this place with open arms when it is safe to do so. We also work through our own faith and what it means to us. As we do all of this, we grow each and every day as our own little community.
I know just like me, there are so many people grieving so many losses, in so many ways right now, so I encourage you to look to those essential aspects of camp. Though we cannot light the fire together right now, find camp in the world around you. Find ways to serve, to grow in your faith, and to create community. I think if the world around us were just a little bit more like camp, it would be incredible, and this is our opportunity to do just that.
Light the fire out in the world around us, and we will continue to keep it lit here until we can all surround a campfire together again.