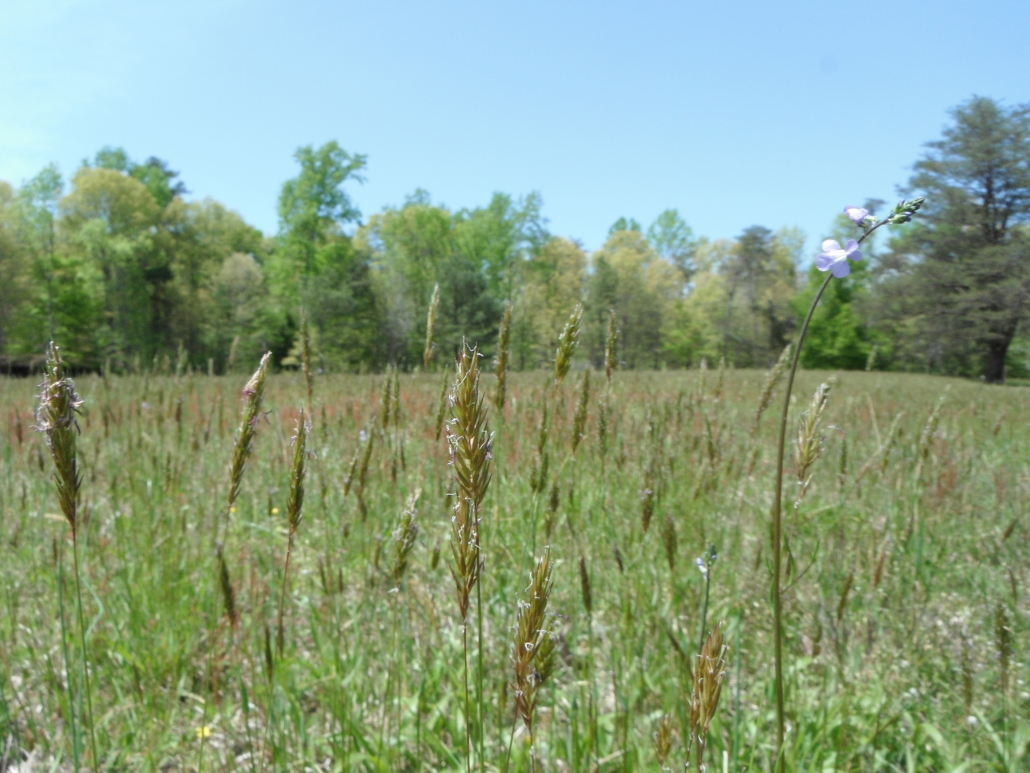 What's the Buzz? Tell Me What's A-Happening!
At first glance, it might just look like we got lazy. Absolutely not! Our tractor and mower still work, and we couldn't ask for better maintenance staff and volunteers. Letting the grass grow out in this particular corner of camp was just the first phase of a "Turf Conversion to Native Plants" project—also known as our GoodPastures Pollinator Meadow!
What's a pollinator? Pollinators are creatures that help pollinate plants by moving the pollen around! While most of us associate pollen with our stuffy noses and itchy eyes, the dusty stuff is incredibly important to helping flowers bloom and fruits, veggies, herbs, and grains grow and produce lots of food. Pollinators, including certain birds and bats as well as many bees and other insects, are critical to nature.
Addressing a Critical Environmental Need
There are a lot of major environmental problems threatening pollinator species: loss of biodiversity, large-scale use of chemicals, destruction of habitat. By establishing this diverse habitat and caring for our site as organically as possible, we're hoping to support many different pollinators for our own garden that will also contribute to environmental health in our region.
If you have visited Camp Hanover over the years, you may have strolled passed a wildflower meadow located in the space between the roads that lead to Koinonia and the Kirkwoods. Left unattended, the wildflower meadow became a bit more "wild" and a bit less "wild-flowered." Over time, grasses and and other invasive plants took over, crowding out the flowers. As a result, the meadow no longer offers the diversity or beauty that the birds, bats, and bees (and we) are looking for.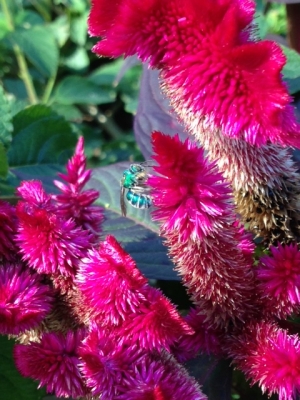 We're building a home for this blue mason bee and all of his friends! Photo from our garden, taken by our friend Kathleen Murphy
Grants and Groups to the Rescue
Thanks to financial support from the Hanover-Caroline Soil and Water Conservation District, technical support from the Natural Resources Conservation Service and Chesapeake Wildlife Fund, and volunteer service from local Boy Scout and church groups, Camp Hanover is converting this overgrown space  from turf grass to native pollinator meadow. When complete, the area also will contain a prayer and meditation space for groups and campers to experience.
After the soil was surveyed, the Boy Scouts erected a split rail fence to demarcate and protect the meadow.  Soon after, invasive species were removed and the soil was prepared for planting. Fifteen different varieties of native wildflower and legume seeds were spread.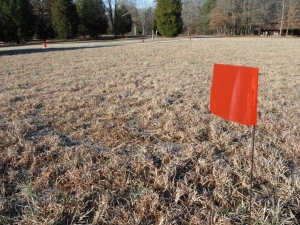 We began the process last winter with a survey of the area.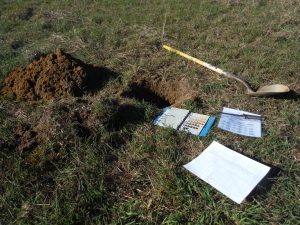 We studied the field carefully, including a soil survey, to figure out which species would work best for our project.
Local boy scouts built the rail fence as an Eagle Scout project and we mowed the field to prepare for planting.
Some of the many varieties of native plants that we installed
Southminster Presbyterian Session Sows Some Seeds
As part of their recent retreat, Session members from Southminster Presbyterian Church planted an additional 8 species of plants. The church staff and elders planted 400 flowers in just over an hour!
By summer 2016, we'll have a colorful, diverse meadow, with many different grasses and flowers blooming throughout the growing season. It will be full of creatures helping our garden and forest as well as nearby farms stay healthy and productive. We're very excited to be undertaking such an important (and pretty) conservation project!
Leadership from Southminster Presbyterian Church planting the rest of the wildflowers
So, Do You Want to Get Growing? Opportunities are sprouting up at Camp Hanover
Looking for a service project for your group and want to help us finish the pollinator meadow? Want to do a similar project and your home or church? Just want to know more? Colleen Earp, Camp Hanover's Director of Youth, Environment and Service Ministries can help you!  Email Colleen at colleen@camphanover.org and find out more about the GoodPastures Program and opportunities for stewardship, education and service.