Last night, the Presbytery of the James delegation departed for Presbyterian Youth Triennium 2016!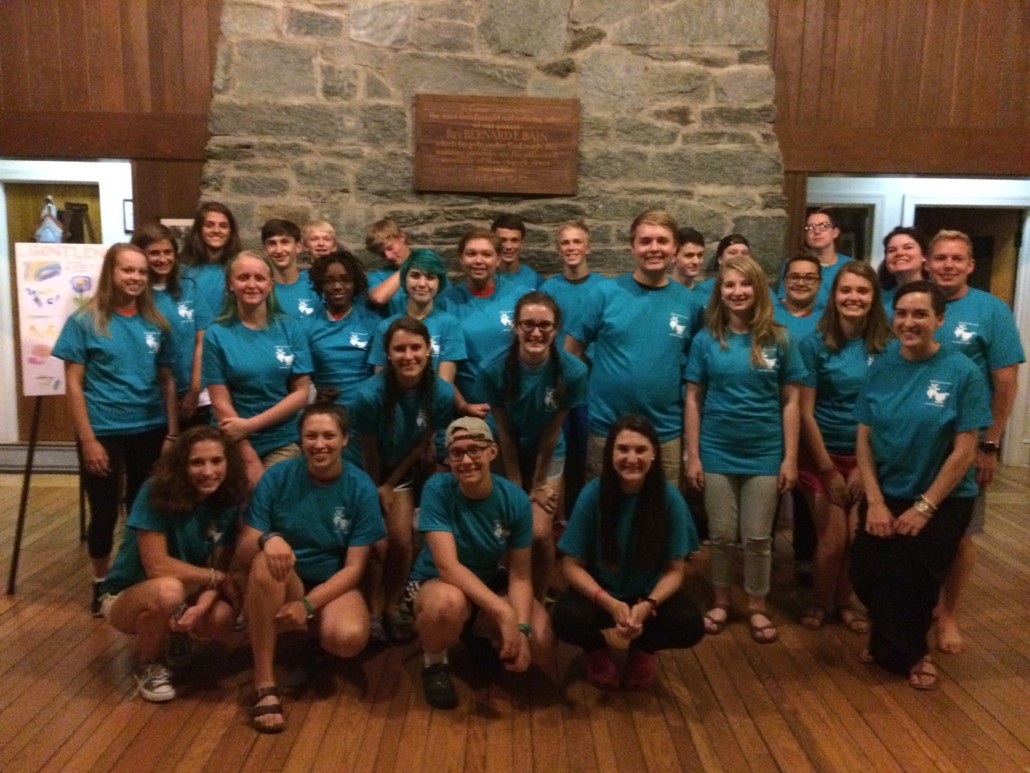 Triennium is a conference for high school youth from the Presbyterian Church (USA) and the Cumberland Presbyterian Church that happens every three years. The theme for the 2016 event is "GO", as in, "Go into the world and make disciples." The POJ delegation included 24 youth and 4 adults from 9 churches, and met up with the delegation from our neighbor presbytery, Presbytery of the Peaks.
Youth will enjoy large (LARGE!: almost 5000 participants and volunteers involved!) group worship as well as small group and delegation meeting times.
What does Triennium have to do with Camp Hanover?
Camp Hanover works closely with Youth Council (see here for more about past events!) to plan and implement youth events for the Presbytery of the James and beyond. Triennium is an enormous event and relies on local church and presbytery delegations to organize individual registrations. This brought Camp Hanover and Youth Council together to get the word out and handle registrations. We are so grateful to all of the people who helped get our delegation together, so they could GO be part of this incredible event!
GO into the world and make disciples!
The Triennium website describes the theme of "GO":
"Going" is not busy work. "Going" is not escape. "Going is not running away." GOING has the most impact when the process of going involves thoughtful and communal self reflection. GOING is enabled by God's counsel, authority given to Jesus and shared with Jesus' disciples.
GOING is risky. GOING is often a process. But sometimes GOING is quick.
Like the shepherds we refuse to let our fear hold us back or stop us from being present with Jesus. The biblical stories of "GOING" we will be exploring demonstrate the process of GOING. In each situation there is NO moment or posture, a TURNING POINT (we are calling it a Turning Place) and a GOmoment. We are human. This means that our GOING is not perfect, or always carefully choreographed and sometimes there is failure, sin or a problem.
GO is a command. Go is a directive. To go with GOD is to embark on a "worthy adventure."
GOat into the world and make disciples?
One of many Triennium traditions is trading pins. Each delegation brings pins featuring something unique about where they come from, perhaps highlighting a landmark or local custom. We decided to feature James T. Goat, a gift from the Presbytery of the James staff to Camp Hanover for Christmas 2015.
Our delegation had a good laugh as we handed out the trading pins as well as our delegation t-shirts, featuring goat images and puns.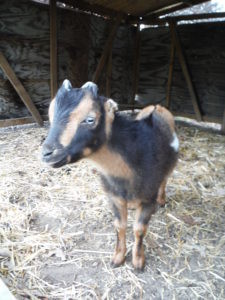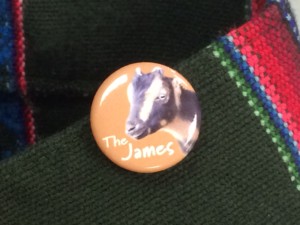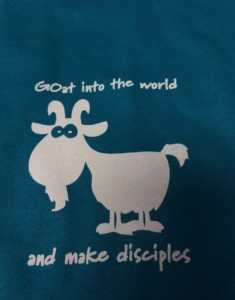 GO and continue to partner with Camp Hanover, Youth Council, and POJ Youth!
Are you or do you know a high school student who might be interested in participating in Youth Council? We're looking for high school students (and adult leaders!) connected to the Presbytery of the James to join us for the 2016-2017 school year. We've got big plans for awesome retreats, more fellowship gatherings, and doing more service work at camp and in the community. We meet monthly at different churches around POJ, depending on where our participants are located. The application will be released at the end of the month. Contact the Youth Council Director, Colleen, at colleen@camphanover.org for more information.
[fusion_builder_container hundred_percent="yes" overflow="visible"][fusion_builder_row][fusion_builder_column type="1_1″ background_position="left top" background_color="" border_size="" border_color="" border_style="solid" spacing="yes" background_image="" background_repeat="no-repeat" padding="" margin_top="0px" margin_bottom="0px" class="" id="" animation_type="" animation_speed="0.3″ animation_direction="left" hide_on_mobile="no" center_content="no" min_height="none"]
[/fusion_builder_column][/fusion_builder_row][/fusion_builder_container]