Camp Hanover Lends a Hand with a Clinical Trial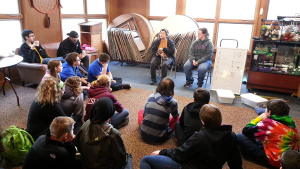 "Diabetes Sucks!" This was the immediate response when I asked a question to the participants of a special kind of winter camp. Earlier this month, Camp Hanover had the opportunity to provide programming for an event for children with Type 1 Diabetes held at Makemie Woods, another Presbyterian Camp located near Williamsburg. Specifically, the purpose of this event was to perform a clinical trial in active environment of some new technology to aid patients diagnosed with Diabetes. We were happy to be asked to lend a hand, so we loaded up some staff and camp supplies and took the Camp Hanover experience on the road.
For the most part, it was a pretty typical camp experience: we did crafts, archery, hiked, played games, did some star watching, rode the zip line, and sang around the fire. What was different, though, was the counting of carbs, middle of the night blood sugar checks, and constant electronic monitoring by medical staff of all the campers.
All told there were 17 youth between the ages of 10 – 18. Despite the wide age range, the group came together remarkably well and had a lot fun with each other. The highlight for me came during a group discussion when several of the youth began sharing their "diagnosis story" and checking to see if anyone had the same "Dianniversary" (the date they were diagnosed). It became apparent there was a desire to talk more about this disease, so we went with it. This is when I asked "What would you like people who don't have diabetes to know about this disease?" I learned they are tired of being asked "does it hurt?," "what is your blood pressure?," and "what does it feel like?" But most of all, they struggle with being treated differently. An example that resonated with the group, a camper shared that she has been accused of "faking" her diabetes to get out of things at school.
The real blessing of this program was that it allowed all of the youth to be just like everyone else around them. No weird looks, awkward questions, or the need to explain what was happening. They were in a group of people that shared similar experiences and could be at ease about it. Even though it took place away from Camp Hanover, it felt like the Camp Hanover experience in that we were able to help make these kids feel valued for who they are and allow them to be themselves. It was a great time!